PERU MISTURA: September 6 - 10, 2014


A Cultural and Culinary Exploration in Peru, including Lima and the 2014 Mistura food festival!
The dates for 2014's Peru Mistura tour are now set!
The Mistura festival dates have been announced for the week of September 5 - 14. We are opening up our 2014 tour for reservations on a first come basis.


The dates for a similar Mistura in 2015 will be set in the spring. Contact us to be on the notification list.
Like the Spanish word "mistura", which means mixture, this small group tour
(maximum 12 participants)
mixes cultures, cuisines, and geography.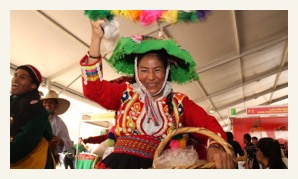 Previous participants to Mistura had a fabulous trip. A whole day was spent enjoying the well organized Mistura food festival and still not all was seen!
All in the group had fun. Staying at the festival about 6 hours, we of course took full advantage of all the great food and drink, in addition shopping among the amazing variety of national food products. Besides all the entertainment to be seen, we were impressed with the organization and management of the event. Even with no Spanish language skills, the expansive festival grounds were easy to navigate and buying products was easy. We appreciated that the grounds and facilities were kept so clean and all the polite people willing to help with directions or interpretations. We also took advantage of the dedicated bus system organized for Mistura, by departing from the LarcoMar shopping mall close to the hotel in Lima.

PERU MISTURA 2014:
5 Days & 4 Nights, September 6 - 10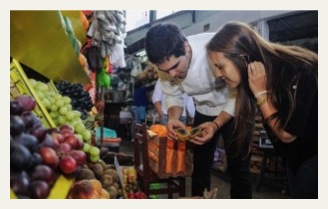 This small group tour will still feature some of the best Lima offers.
Escorted by a professional Peruvian Chef we will have a full day at the world's largest food festival, called Mistura
. You will learn for yourself why Lima is often considered the gastronomical capital of South America. For a nice video overview of Mistura and the foods of Peru, here is a link to a video on VIMEO, called
Peruvian Cuisine - a Catalyst for Change
.

NORTHERN COASTAL PERU:
6 Days & 5 Nights, September 10 - 15
After the Mistura 2014 Tour in Lima, for a trip extension we will be
exploring along the Pacific Coast of Peru, escorted by anthropologist Charlie Strader
and local guides. For travelers, this area may be known best for its incredible archaeology sites, and many have enjoyed it for the beautiful colonial cities, scenic beaches, friendly people, and of course its delicious regional cuisine. We will take advantage of all.



Also available in conjunction with the Peru Mistura 2014 Tour are trip extensions to Cuzco and Machu Picchu, to the Amazon, and to Paracas including the Nazca Lines. See below for a special ANDEAN INCA EXPLORATION of 7 Days & 6 Nights. (Our Peru tours may be taken separately or in conjunction with our other trips in Peru.)

These unique tours were designed by anthropologist Charlie Strader, President of Explorations. His love and appreciation of Peru's cultures and food diversity started with travels there in the 1980's.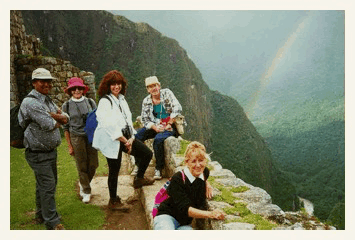 Having traveled throughout Peru, he wanted to offer this special cultural tour with an appreciation and study of Peruvian foods that included the Mistura gastronomy fair in Lima.

The group size is limited to 14 participants. Expert guides will inform of the past and present cultures of Peru, their environment, history, art, and foods. You will experience why National Geographic named Peru the "next Foodie Frontier" in their
Best of the World for 2012
. You will also receive a video of the acclaimed and moving documentary,
Cooking Up Dreams
.


Taken together, the Peru Mistura and Northern Coastal Peru tours make for an outstanding itinerary of 10 days, September 6 - 15.

Highlights and features of the two tours include:

* Mistura 2014, seventh annual gastronomy festival and second largest food festival in the world guided by professional chef
* Lima, the City of Kings
* Touring local market and cooking class with Lima chef, Sebastian Figueroa
* Incredible archaeology sites such as; Caral, Sechin, Chankillo, Hauca Del Sol & Huaca Del Luna, and Chan-Chan
* The Lord of Sipan Museum
* Grand colonial cities of Trujillo and Chiclayo
* Traditional small towns and markets
* Visits to "off-the-beaten path" archaeology sites, museums, and scenic nature areas
* A gastronomic focus - from farm to fork - with visits to local markets, cooking demonstrations, and special meals
* Escorted by experienced tour leader and anthropologist, Charlie Strader
* Professional, resident guides throughout
* Small group size (maximum 14 participants) for a more in-depth and relaxed travel experience


CONTACT US FOR PRICING AND TRIP BROCHURE.

PERU MISTURA 2014: 5 Days & 4 Nights, September 6 - 10
DAY 1, Saturday, September 6, 2014

Reception in Lima from international flights and transfer to the colonial-style
Hotel Antigua
, located in the upscale district of Miraflores, where we stay for four nights accommodations. (http://www.peru-hotels-inns.com) Miraflores is known for its shopping areas (such as the Indian Market and Kennedy Park), hotels, restaurants, flower-filled parks, and beaches.


DAY 2, Sunday, September 7 (B/L)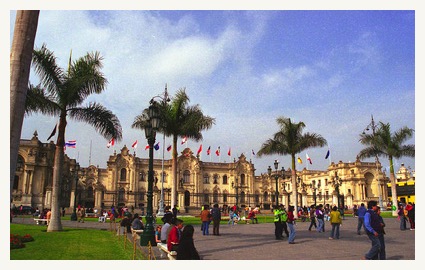 We enjoy breakfast at the hotel which has wonderful fresh breads from a nearby bakery. Today we learn of Peru's rich colonial heritage. Taking advantage of the lesser traffic on a Sunday, we travel downtown to explore Central Lima. We first head to the impressive Main Square, called the Plaza Mayor or Plaza De Armas, which is more beautiful than ever with the recent renovations. The large plaza is surrounded by such important buildings as the Government Palace, the Archbishop's house, the Cathedral, and City Hall.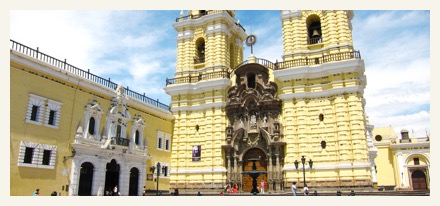 We can then witness services at the San Francisco Convent, arguably the greatest architectural complex of its kind in Latin America. We will explore its amazing network of underground galleries and catacombs that were a cemetery in colonial times. Then we walk through the most popular pedestrian boulevard in Lima, the Jiron de la Union, to the San Martin Square, which was inaugurated in 1921 in celebration of the 100th anniversary of the independence of Peru. On the plaza San Martin is the historic (oldest in Lima) hotel, the Gran Bolivar, which is worth a look around and maybe enjoy a "chela" (beer), or its bar's famous Pisco Sour.

There are many great places downtown for lunch. One of the popular and most charming ones is the historic El Cordano Bar, founded by Italians and famous for its sandwiches, such as "Butifara". Or we may stroll the pedestrian boulevard of Paseo de los Escribanos, one of the most beautiful stretches of buildings in the area, to find a lunch spot. Known as "The Writers' Way", because in the past, when much of the population was illiterate, locals came here to have their messages to loved ones and friends transcribed. With its signature yellow buildings, it's a favorite among residents and visitors and has many eateries.

After lunch, we will go for a stroll through the artsy and bohemian Barranco neighborhood, full of grand mansions and historic buildings. We will also see and learn the story of the famous Puente de los Suspiros, or Bridge of Sighs, on the walking tour.


After a rest at the hotel, for those who would like we can arrange reservations and transportation to the upscale
Huaca Pucllana Restaurant
, located in Miraflores overlooking the Pre-Inca archaeological Pucllana ruins. (Costs are not included.) Currently the Pucllana Archeological Zone spreads over 15 hectares and is divided into two well-defined sections. One is of pyramidal structure, 23 meters high. The charming restaurant is was a large old house. The high ceilings and low lights give it a special touch. They also have a dining area and bar on a lovely terrace. The view of the ruins is just breathtaking and their desserts are extraordinary.

(Note: Unless noted otherwise, dinners are not included to allow you the freedom of choice regarding what to eat and where. The local guide will assist with any desired dinner reservations, or you can choose to eat at the hotel, or nearby restaurants, such as in Kennedy Park along the Calle de Pizza, or seaside at the nearby Larcomar Mall. Famous Lima restaurants include: La Rosa Nautica, Punta Sal, Astrid y Gaston, Panchita, Rafael, Costanera 700, Malabor, Mangos, AmaZ and Caplina among others which can provide unforgettable dining experiences.)


DAY 3, Monday, September 8 (B/L)
Today we learn about the foods and pre-Columbian cultures of Peru along with a special market tour and cooking class with professional chef, Sebastian Figueroa.


The morning is free to relax, explore Miraflores, or shop in the nearby "Indian Market". A few blocks from the hotel and one block from the roundabout in Kennedy Park many artisan shops sell nearly everything that Peruvian craftsmanship has to offer. It is a 10 block walk or about $3 to taxi. You can buy souvenirs, artisan handicrafts, jewelry, silverware, alpaca clothing, T-Shirts, pottery, paintings, wooden pieces, and much more from all over Peru. It is a place you can shop 'til you drop and most shops stay open until about 9pm!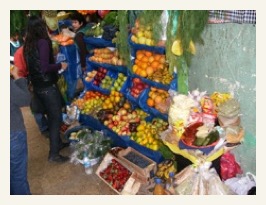 At 11am, we meet Chef Sebasitian for a tour to the recently renovated Mercado Surquillo in Miraflores. It is Lima's largest food market and great place for an introduction to the great diversity of foods in Peru.
Click here for a video.
The market contains a wide variety of well-stocked breads, fruits, cheeses, fish, meats, potatoes, dried beans, nuts, seeds, herbs, flowers and many of the natural products from all over the country of Peru, including many of the pre-Columbian food items of Peru. Chef Sebasitian guide will explain the unknowns - how they taste, and are prepared. Of course, you may want to sample for yourself. It is normal to see women from the countryside wearing the colorful dress of their regions selling local products. The three floors have independent vendor stalls, small restaurants for take-out foods and craft shops. It is the market of choice for the gourmet chefs of Lima. The market includes an incredible range of meats, fish, and seafood. Upstairs in one of the restaurant stalls is a great place to view some of the many types of fresh ceviche. This combination of marinated fresh seafood is one of Peru's most famous dishes.


We then have a special cooking class and lunch with Chef Sebastian! Sebastian has studied at Le Cordon Bleu Perú and taught workshops and cooking classes at Le Cordon Bleu Perú and the San Juan Bautista University. Has worked at Astrid & Gastón (Ranked #1 Restaurant in Latin America, #14 in world), and the Central (Ranked #4 in Latin America, #50 in world), and the Artístico Café Bistró and Hatuchay Hotel at Macchu Picchu. He is also part of the "Cook - Farmer Allegiance" that investigates native Peruvian products and promotes their consumption. Sebastian speaks fluid English, German and Spanish, and a little bit of Portuguese.


In the later afternoon, we visit one of Lima's outstanding museums, the
Larco Herrera Archeological Museum
to learn of the ancient cultures of Peru and have lunch (independently, so you have control over your museum viewing time). The museum is housed in an 18th century vice-royal mansion built over a 7th century pre-Colombian pyramid. Its galleries provide a thorough overview of 4,000 years of Peruvian pre-Colombian history. The museum has the world's largest private collection of pre-Columbian art, including Moche, Nazca, Chimú, Inca artifacts, the finest gold and silver collection from Ancient Peru, and its famous erotic art ceramics.

The museum also provides a beautiful setting for a fine meal of traditional and Novo Peruvian cuisine in its
Cafe del Museo
. The gourmet restaurant is rated one of the best in Lima, directed by one of Peru's most prestigious chef, Gastón Acurio. With indoor and outdoor patio seating, it has a wonderful atmosphere, located in the terrace and garden alongside the Pre-Columbian pyramid and vice royal mansion that hosts the Larco Collection. Its interior, designed by architect Jordi Puig is planned to make you feel that you are having a meal in the terrace of an old chateau. (Dinner is independent, so you have control over your museum viewing time, or you can wait to have dinner after we return to the hotel.) We return to the hotel in the evening.


DAY 4 Tuesday, September 9 (B/L)
Today along with a professional chef, we enjoy one of the world's biggest gastronomical events and the largest food fair in the world -
Mistura
! In 2011, Mistura broke the Turin Italian Cuisine Expo then attendance world-record of 275,000 people with a paid attendance of 405,000. At the seaside location of the Costa Verde of Magdalena del Mar, a short distance north of the popular Miraflores district, Mistura 2014 will have estimate paid gate attendance of 600,000 people during the 10-day festival. Over 25,000 international tourists, mostly from the United States, Colombia, Venezuela and Brazil, are expected to attend.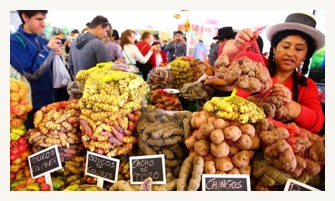 We have a full day at the festival on a Tuesday to avoid the large weekend crowds. Since we will still be joining a large number of food aficionados, we will arrive in the morning before the lines start at the popular booths. In addition to transportation and entrance fee, we will supply $25 worth of food tickets to get you started, and be joined by Chef Sebasitian! He can help teach us about the incredible diversity of foods, products, ingredients, and cuisines.

Because of the nature of the event, we will have some free time and coordinate / assist with transfers back to the hotel or assist with departures at time of your choosing. To assist in logistics for independent explorations of the sprawling festival, we will provide cell phones for use and regularly meet at a specified location.

Food, and the people that make it, are respected at all levels of society in Peru. During the Mistura food festival, Peruvians from various social, age, and gender distinctions gather around pots and cookers to celebrate Peru's traditional cuisine, marvel at the creativity, reaffirm their identity and celebrate cultural diversity.
Click here for short video about Mistura and the power of food.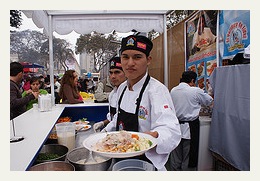 Food has long been associated with Fiesta. The Mistura food fair brings together the various actors in the chain cuisine of Peru: farmers, producers of pisco, cooks, bakers, food sellers, confectionery, huariques, restaurants, cooking schools, and commercial companies. In Mistura a special tribute is paid to mother earth, or Pachacama. The richness of Peruvian cuisine is based on history and at the confluence of particular styles culinary and inputs from different regions of Peru - hence the name mistura, which means mixture. To this regional diversity is added 5 centuries of contributions of European tastes, Arabs, Africans, Chinese, and Japanese.

The organizers, Apega, is again planning to for an incredible number of foodies. For example, at the 2011 Mistura: More than half a million loaves of bread were sold.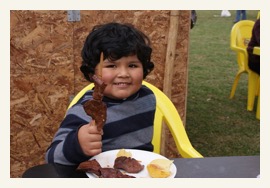 The area of sweets and dessert carts sold more than 230 thousand portions. More than 40 thousand portions were sold in the area of regional cuisine. More than 20 thousand portions sold in the classic cuisine section. In the booths of Javi, Makatong and La Cilindada Pedrito more than 4,000 portions were sold daily. The rustic kitchen section sold more than 95,000 portions. More than 8 tons of fruit were sold - most requested: Orange, Chirimoya, Avocados, Pitajaya and Poro Poro. (We can also attest there was tons of fun!)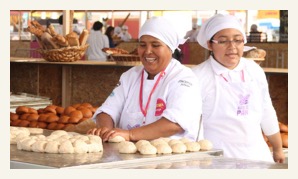 The Mistura food festival attracts internationally acclaimed chefs such as Ferran Adria of El Bulli, Alex Atala of D.O.M. in Sao Paulo, Dan Barber of Blue Hill in New York, Massimo Bottura of Italy's La Osteria Francescana, Rene Redezipi of Copenhagen's Noma, Quique Dacosta of Spain's Quique Dacosta Restaurant. Many famous Peruvian chefs will be there, such as Gaston Acurio, Rafael Piqueras, Rafael Osterling, Virgilio Martinez, Javier Wong, Giacomo Bocchio, Mitsuharu Tsumura, Ferran Adrià, René Redzepi, Alex Atala, Massimo Bottura, Victor Gutierrez, Luis Arevalo, Astrid Gutsche, Jaime Pesaque, Toshiro Konishi, Cyrus Watanabe, and Pedro Miguel Schiaffino (many will have food booths for a taste of their internationally renowned creations).

Scattered throughout the grounds are food stands from several hundred restaurants, hailing from all over Peru and serving specialty dishes. The restaurants are a combination of well-known and higher end places in Lima to simpler regional huariques. Special areas are dedicated to bread, pisco, chocolate, coffee, and Nikkei food. There is also a marketplace with specialty products, demonstration and lecture stages, live entertainment and parades. It's like a Peruvian food Disney World! While there are plenty of free samples, food and drinks from the stands is bought with tickets, which can be purchased in separate stands throughout the park. In addition to transportation and entrance fee, we will supply $25 worth of food tickets to get you started on your food and drink discoveries.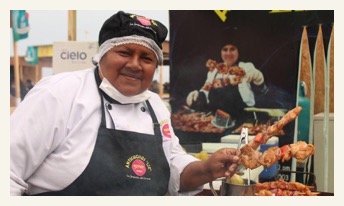 In the Great Market area, about 300 suppliers were present from such areas as Cusco, Puno, Ayacucho, Huancavelica, Apurimac, Huancayo, Oxapampa, Iquitos, Pucallpa, Piura, La Libertad, Lambayeque, Cajamarca, Ancash, Moquegua, Arequipa and Tacna. Many sold their entire production in the early days. Tarwi, cañihua, quinoa, salt maras, custard, coffee, Hot Chili, soft leaf stalk, cocona jams, native potatoes, etc., were just some of the products for sample and sell.


DAY 5, Wednesday, September 10 (B)

After breakfast at the hotel, you may choose among the options of:
1.
Transferring to the airport for international flights out.

2.
Extend your stay in Lima to experience another day at Mistura, or other explorations in Lima.

3.
Continue traveling in Peru (escorted by anthropologist Charlie Strader and local guides) for an exploration of Peru's North Coast (6D/5N).

4.
Continue your exploration of Peru with one of our Amazon tour packages, our Andean Inca Exploration for Cuzco and Machu Picchu (see below for a special 7D/6N itinerary), or trip extensions for the Nazca Lines & Paracas (see below for a 3D/2N itinerary), Like Titikaka, or other.


SERVICES

All airport / hotel transfers and group transportation as listed
All lodging, including hotel taxes, as listed or similar
Tours as described including entrance fees, and tickets for Mistura 2013
Meals as listed (B=Breakfast / L=Lunch / D=Dinner)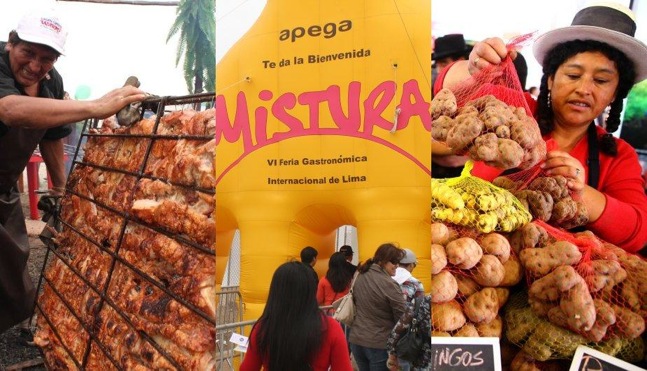 NORTHERN COASTAL PERU: 6 Days & 5 Nights, September 10 - 15
(Note: This cultural tour may be taken separately, or in conjunction with Mistura or other Peru tours.)
"A region often overshadowed by the grandeur of southern Peru's Machu Picchu and ancient city of Cuzco, northern Peru has much to offer in terms of unique experiences, mystery and intrigue and should not be overlooked. Flush with archaeological treasures, superior surf spots, distinct gastronomy and diverse geography from coastal towns to desert, northern Peru is rapidly making its mark as the latest Peruvian region to uncover and explore. Along Peru's northern coast lies the Moche Route, where ancient sites belonging to the pre-Incan Moche culture (A.D. 100-800) [and other early cultures] await discovery.
Visitors to the north will also encounter unique cuisine in this region with signature dishes cabrito and ceviche taking centre stage. Seafood is a daily delicacy here due to the coastal location and abundance of fresh seafood produce. Another must try dish of the north is arroz con pato (duck with rice) and of course Pisco Sours are always on the menu!"

(from Lifestyle.com)
DAY 1, Wednesday, September 10 (B/L)
After breakfast, we depart Lima north to Caral, which is claimed to be the oldest urban settlement in the America. We'll travel 185km north on the Panamerican highway to the ruins and then on to the small coastal town of Barranca for the overnight.


En route, we make a stop off the Panamerican Highway to stretch our legs and see part of the Lomas del Lachay National Reserve. The nature reserve is in the desert foothills about (65 miles) north of Lima and features a unique mist-fed ecosystem of wild plant and animal species and subject to a peculiar geography called the Yungas.
There are two distinct seasons in Lachay: the humid season is the most important, from approximately June to November. The season of fog turns the desert green with vegetation and attracts the fauna of the region. Plants, birds, mammals and reptiles have adapted their life cycles to fit into a few months of the year. Within weeks the desert sand is covered by thick green vegetation, even apparently dead tree-trunks become green and flower. It is an amazing nature experience to walk through the thick vegetation of the Lomas with its amazing diversity of hummingbirds, doves, parrots, as well as birds of prey.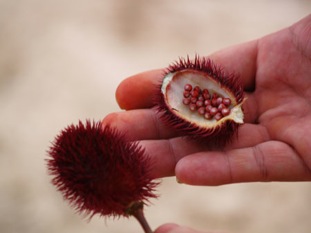 Continuing north along the highway for another 18 miles, we can stop for an overlook of the Paraíso Lagoons. The lagoons provide habitat for various shorebirds and migrants from North America. Thousands of gulls, terns and waders can often be seen here. With luck, we may see part of the large colony of some 200 Chilean Flamingos that over-winter here.


With time permiting, we may have a quick stop at the small town of Vegueta. At its Community Museum, we can see displays of the local archeological site Vichama, a fishing and agricultural town of the Caral civilization. Also nearby are the remains of the Vichama archaeological complex which used unique construction methods.


We then continue to explore Caral. The 5000-year-old, expansive archaeological site of Caral is situated on a dry desert terrace overlooking the green valley of the Supe River. It dates back to the Late Archaic Period of the Central Andes and may be the most ancient city in the Americas. Well-preserved, the site is impressive in terms of its design and the complexity of its architectural, especially its monumental stone and earthen platform mounts and sunken circular courts. One of 18 urban settlements situated in the same area, Caral features complex and monumental architecture, including six large pyramidal structures. A quipu (the knot system used in Andean civilizations to record information) found on the site testifies to the development and complexity of Caral society. The city's plan and some of its components, including pyramidal structures and residence of the elite, show clear evidence of ceremonial functions, signifying a powerful religious ideology. It is one of the 981 locations on the UNESCO World Heritage list.


If time permits, we can also take a quick look at the visit the archaeology sites of Aspero and Bandurria, which are of a similar age to Caral.


We then overnight in the small port town of Barranca at the Hotel Chavin. With a population of about 140,000 people, the town's economy is based largely on agriculture and fishing. The town has a popular sandy beach, a large local market, and excellent provincial cuisine. The Supe region is locally known for its tamales of chicken or pork and the chorizo of Huacho is another regional treasure.

DAY 2, Thursday, September 11 (B/L)
After breakfast and a quick stop at the local market to see the morning's seafood catch and local produce, we continue our drive north along the coast. We then tour the ruins of Fortaleza de Paramonga, just north of the historic town of Pativilca (a headquarters of Libertador Don Simón Bolívar in 1824). The site dates mostly from 1200 to 1400AD and was an impressive southern outpost of the great Chimu (Chimor) Empire whose capital was Chan Chan. The Fortress of Paramonga was more likely a temple than a military fort. Later, under Inca rule, the building was used as a temple of the sun.
Further up the coast we take a quick stop to check on any current excavations at El Castillo de Huarmey which provided evidence of the Wari Empire in the Moche heartland. It is also the site of an incredible find of an royal Wari tomb excavated in 2013 that contained 1,200 artifacts, including gold earrings, bronze axes, jewelry made of copper and silver, and silver bowls and 60 human burials. The important find is featured in National Geographic Magazine's June 2014 issue.

Then on to the ruins of Sechín near the town of Casma. First we will make a stop at the Casma Regional Museum for an overview. The museum displays material found in archaeological excavations of Sechin, and has scale models, drawings, aerial photos, and burials from the Chavin, Wari, Chimu and Sechin cultures.

The archaeological site called Sechin Alto is the capital of a pre-Incan culture, occupied between approximately 1800 - 900 BC. The site is remarkable for its unique stone carvings and its enormous mound, the largest in the America's of its time period, measuring some 990 feet long, by 825 feet wide by 145 feet tall. The Sechin Alto Complex includes about 4 sq miles of settlements and included the sites of Sechin Bajo, Taukachi-Konkan, and Cerro Sechin. Sechin Alto's great size may represent a 1000 year building span.

We time permitting we will also make a quick stop to see a site that is often claimed to be the oldest solar observatory in the America's at Chankillo. The ruins include the hilltop Chankillo fort, the nearby Thirteen Towers solar observatory, and residential and gathering areas. The Thirteen Towers have been interpreted as an astronomical observatory built in the 4th century BC.

We then continue on to the colonial city of Trujillo, about 2.5 hours away, for two overnights at the Costa Del Sol Hotel.


DAY 3, Friday, September 12 (B / L)


After breakfast, we explore in the historic center of Trujillo for its main plazas, grand architecture, cathedrals and museums. We can also visit the intriguing Mercado de Brujos (Witches Market) with its diversity herbal medicines and ritual objects. Besides nearby incredible colonial buildings and archaeology sites, due to its geographic location, Trujillo is also known for its seafood, nearby beaches and surfing. Trujillo is also known for quality leather goods (particularly shoes), woodcarvings and replicas of Precolombian ceramics.


After lunch and rest at one of the many fine restaurants in town we will drive southeast of the city to visit the Moche archaeological sites of Huaca del Sol and Huaca de la Luna. The countryside in the province of La Libertad was the land where the ancient Mochica culture chose to build up its most important ceremonial centres: The Huaca del Sol and the Huaca de la Luna. Located only 8 km away from the city of Trujillo, these impressive monuments are more that 1,500 years old. The Huaca or Temple of the Sun functioned as an administrative and political center. It is a staggered pyramid of approximately 43 meters high that was built with around 70 million adobe brick and was the largest pre-Columbian adobe structure built in the Americas. The Huaca de la Luna or Temple of the Moon is located 500 meters away from the Huaca del Sol. This construction was built for ceremonial purposes and it is formed by six superimposed temples built during different periods of the Mochica culture. Its polychrome big walls, on which they represented the Mochica divinity known as Ai-Apaec (Slaughterer God) are remarkable since they are very well preserved. It is thought that multiple human sacrifices were held to honour this god, rituals that have been captured in other elements of the Mochica iconography. Late afternoon return to the hotel

DAY 4, Saturday, September 13 (B/L)
After breakfast, we depart Trujillo for a guided tour of the ancient Chimu culture's ruins of Chan Chan - claimed to be the largest pre-Columbian city in South America and the largest mud-brick city in the world. Its importance earned a listing as an UNESCO World Heritage Site. The ancient Chimú kingdom (700-1400 AD) founded their capital by the banks of the Moche River in the department of La Libertad and called it Jang-Jang, which in the ancient Mochica language means "sun-sun". The city was the urban center of a vast regional state which covered half of the Peruvian coast, stretching from Tumbes on the Ecuadorian border down as far south as Lima. All roads branched out from Chan Chan.

Later is a visit to Huanchaco Beach, famous for its fishermen's use of the caballitos de totora, which are lightweight boats made of totora reeds that have been used to cut through the ocean since the time of the Mochicas and Chimús. There, we can also enjoy delicious fresh seafood for lunch.

After lunch, we can visit the El Brujo Archaeological Complex and its museum. Also in the area, Chicha de Jora, an alcohol based corn beer is available and the chicha of Magdalena de Cao, near El Brujo, has been rated the best in Peru.


In route, we may also make a stop at the site of Hauca El Pueblo, location of the rich Moche burial of an elite called the Lord of Ucupe. The ancient ruler was also nicknamed the "king of bling" because of the large amount gave goods and his regalia. Recent excavations of the 1,500-year-old tomb uncovered 19 golden headdresses, various pieces of jewelry, and two funerary masks, as well as skeletons of two other men and a pregnant woman. A most excellent overview of the Moche can be found at: http://www.utexas.edu/courses/arh400/lectures/390/weblec.htm

When then continue north along the coast to the historic city of Chiclayo, also famous for its fine cuisine and colonial architecture. We overnight at the Casa Andina Select Chiclayo (formerly the Gran Hotel Chiclayo) or similar for two overnights.


Chiclayo is refeered to as "The City of Friendship," and was founded in the 1560s by Spanish priests. It is a center for indigenous witchcraft, has some of the best cuisine in Peru, and is well known for its archaeological sites.


DAY 5, Sunday, September 14 (B/L)
After breakfast is a guided tour of the famous Lord of Sipan archaeology museum, "Tumbas Reales del Senor de Sipan". In the fourth century AD, the Moche people buried one of their greatest warlords. He was buried with his head pointing south, his nose and ears covered with gold relics and his feet clad in silver. To accompany him, his subjects sacrificed women, children and llamas, while the finest warriors of the era accompanied their overlord on his voyage to the Afterlife. In 1987, a team of archaeologists led by Walter Alva found the skeleton of the Lord of Sipán 29 km from the city of Chiclayo in the site of Huaca Rajada. It was hailed as one of the most important archaeological finds of the century. Huaca Rajada is made up of three pyramids, one of which contained the warrior-priest accompanied by the bodies of his followers. After spending years on exhibit in the Americas, Europe and Asia, the treasures of the Lord of Sipán are now on display at the Museum "Tumbas Reales de Sipán" in the town of Lambayeque. Also in Lambayeque we can visit the Bruning National Museum and see its outstanding archaeology collections.

Time permitting and of interest, we may explore some of the areas archaeological sites before returning to the hotel.


DAY 6, Monday, September 15 (B/L)
After breakfast, we explore in the historic center of this colonial city for its main plazas, grand architecture, cathedrals, and the Mercado Modelo with its Mercado de Brujos (Witch Market), selling items used by Peru's curanderos (healers) such as shark jaws, deer legs, snakeskins, potions, scents, amulets, and huayruro (jungle beads). There are heaps of dried mountain herbs and San Pedro cacti.

After lunch, the afternoon is free for relaxation and optional explorations.
(We will keep our hotel rooms for the day.)
In the late afternoon, we transfer to the airport for evening flight to Lima and connections for late night flights out.


Upon arrival in Lima this evening, you have several options:
1.
Stay at airport and connect to redeye night international flights out.

2.
For an additional $125/dbl/pp you may choose to overnight in Lima at the Costa Del Sol Ramada Hotel (located at in the airport).
And on September 16th, you then may:

A.
Fly back to your origin in the morning.

B
. Fly back to your origin in the evening (day use of hotel day room is $55/pp/dbl).

C.
Or, you may choose to continue travels in Peru with trip extensions (see below for a special Andean Inca Exploration).


SERVICES

All airport / hotel transfers and group transportation as listed
All lodging, including hotel taxes, as listed or similar
Tours as described including entrance fees
Meals as listed (B=Breakfast / L=Lunch / D=Dinner)



WHAT OTHERS HAVE SAID ABOUT THE NORTH COAST OF PERU


"Northern Peru is packed with unique treasures – cultural, archeological and natural. Blessed with fewer tourists and better coastal weather than either Lima or the south (particularly in the high season – May to September), the area encompasses city oases along the coast, secluded villages in the Andes – where you may well be the first foreigner to pass through for years – and is brimming over with imposing and important pre-Inca sites, some of them only discovered in the last decade or two. For many, the biggest attraction will be the beautiful and trendy beaches. For others, it's the scenery, archeology, and the opportunity to get off the beaten tourist trail."
(roughguides.com)
"You wouldn't know it from the paucity of foreign visitors, but the northern coastal desert of Peru holds some of the country's greatest archaeological treasures: Chan Chan, the great adobe city of the Chimú civilization; 1,500-year-old Moche temples; and the royal tomb that brought the great Lord of Sipán to the world's attention in 1987 -- Peru's very own King Tut. And the region continues to make news: In 2007, a 4,000-year-old temple and mural -- among the oldest discoveries of their kind in the Americas -- were uncovered in the Lambayeque Valley. If archaeology isn't your thing, northern beaches along the vast Pacific coastline -- particularly those in and around Máncora, the coast's hot new destination -- draw surfers to some of the best waves off South America, and nestled in the sierra is one of the country's most charming and beautiful mountain towns, Cajamarca, which could fairly be called the Cusco of the north."
(from frommers.com)
"Often ignored by travellers, Peru's north coast is possibly the most important archaeological area in the whole of the Americas. Even though the Incas have taken the lion's share of archaeological attention in Peru, the prior cultures of the north coast were at least as important, and survived for a much longer period of time. The Moche culture developed near Trujillo and spread out over much of the north coast, lasting from 200BC to 800AD. The importance of this culture can be seen in its enormous adobe structures, such as those at Túcume, as well as the stunning treasures that have been discovered, including those of the Señor de Sipán, which can be seen in Lambayeque. The Moche temples have not survived well, as the ravages of time and the greedy hands of fortune hunters have damaged the structures' mud bricks. However, the ruins are still of great interest, especially for the wonderful colour friezes which survive, such as those at the Huaca de la Luna and Huaca El Brujo, both near Trujillo.

The decline of the Moche culture led to the rise of many other cultures on the coast, the most important of which was the Chimú culture, based principally around Trujillo. The most important Chimú site is the UNESCO World Heritage Site of Chan Chán, near Trujillo, the world?s largest adobe city. Here, beautiful mud-brick palaces and temples can be visited, many of which have survived in remarkable condition.
The archaeological importance of the north coast stretches far beyond just Trujillo and Chiclayo. Close to Lima are the important sites of Paramonga and Sechín, and other sites of interest include Pacatnamú. For travellers with an even a passing interest in archaeology, the north coast is an essential destination in Peru.
In addition to the north coast's archaeological importance, the area is worth visiting for its coastline. Some of the world's best surfing can be found on these shores, including the world's longest wave at Puerto Chicama. Additionally, the fishing can also be excellent, and giant marlin can still be caught off Cabo Blanco in the north. The north is also home to Máncora and Punta Sal, Peru's best beaches. Here, palm-fringed sandy beaches meet a warm, blue sea, making a wonderful resting point. The north coast is also the location of one of Peru's largest, and oldest, cities, Trujillo, which is worth visiting for its colonial centre of beautiful balconies and churches.
Travellers to Peru who do not visit the north coast, or only see it through the windows of a bus from Ecuador to Lima, are missing out on one of the most fascinating areas of the whole country."

(from peru-guide.com)
Once passed up for the south, the north coast and northern highlands are increasingly becoming some of Peru's most sought after destinations for a variety of travelers. There are beaches, mountains, green fertile valleys, dry desert, and tremendous archaeological sites and museums."
(from fodors.com)


ANDEAN INCA EXPLORATION 7 Days & 6 Nights
(Note: This cultural tour may be taken separately or in conjunction with our other Peru tours.)


DAY 1 (B/L)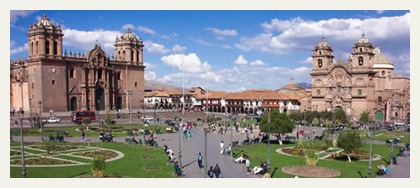 A mid-morning flight over the Andes Mountains to the city of Cuzco transports you to a dramatically different environment. Upon seeing the beauty of Cuzco, situated in a scenic valley at 11,000 feet, it is much easier to understand what may have prompted the Inca to call this area the "navel of the world". Tonight and tomorrow you stay in a colonial-style hotel, the
Casa San Blas
. This boutique hotel is centrally located near the Main Plaza in the "artsy" neighborhood of San Blas.

After check-in at the hotel, we have a welcome cup of coca tea and orientation session. Afterwards you are encouraged to take a siesta and relax at the hotel to get acclimated to the altitude. For lunch we may go to the nearby Pachapapa Restaurant for some of its popular homemade-style chicken soup, or other delicious dishes.

A guided afternoon walk introduces you to the historic center of Cusco, a UNESCO World Heritage Center.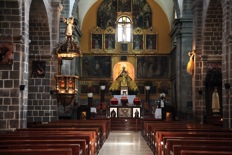 DAY 2 (B/L)


Today is a walking tour of Cuzco, starting with the historic buildings in the San Blas neighborhood. We will see Hatun Rumiyoc, named for its famous large 12-angle stone found in an Incan wall along the street. Along the way, we can (Why would we not!) stop at a Chocolate Shop, to be tempted by their interesting flavors including, chili, cinnamon, maca (an Andean plant) and lúcuma (a Peruvian fruit).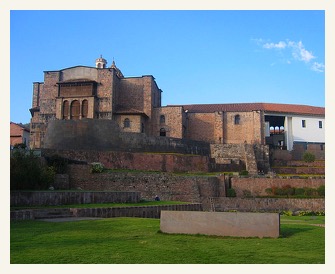 The tour introduces you to the impressive colonial historical city, with visits to such places as the San Blas Chapel, Arzobispo Palace, the Main Cathedral of the Plaza De Armas, San Francisco´s Botanical Gardens and much more. The Inca founded Cuzco as the capital center of their empire and it is still considered the" archaeological capital of the Americas". Cuzco is the oldest, continuously inhabited city in the western hemisphere and evidence of its long history surrounds you. Massive Inca-built stone walls serve as foundations for the red tile-roofed colonial buildings. Here you can visit some of the oldest and grandest cathedrals in the New World. The feeling of history comes alive in the faces and language of the local Quechua-speaking, descendants of the Incas.

Before lunch a walk is planned through the colorful and vibrant San Pedro market to familiarize yourself with local ingredients. This covered, open-air market is Cuzco's largest and full of a great variety of local fruits, vegetables, meats and cheeses. No doubt hungry by then, we will then go to a local restaurant.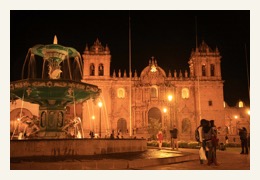 After lunch, we visit and learn about Coricancha, Temple of the Sun, and the new discoveries from archeological excavations. The Coricancha temple was one of the most opulent and revered temples of the Inca. We will also explore the imposing Church and Convent of Santo Domingo which the Spanish built over the Inca spiritual complex.

For dinner on your own, the San Blas district has a great variety of fine restaurants, including the Hotel Monestario for upscale dining and the local guide can direct you.


DAY 3 (B/L)


We depart Cuzco for a drive through the countryside the Sacred Valley. In route we tour the traditional Indian village of Chinchero, the Moray Inca ruins, and the salt works at Salinas along the way. We then have two overnights in Ollantaytambo, an ancient Inca fortress and current Quechuan town.

Surrounded by mountains, we stop for visit the Quechua town of Chichero which is famous for its colorful weavings and Sunday market. There you can enjoy a weaving demonstration and may shop for high quality textiles. Chinchero is located at an altitude of 3,700 meters where you can see the entire plateau of Maras and the Vilcanota's Mountain Range with its +5,000 meters glaciers like Chicon and Veronica. We will have a picnic lunch and share with the residents their traditional dishes such as cuy (guinea pig), watia (potatoes baked on earth), maize, local bread, etc.


We then visit one of the Inca's engineering marvels, the ruins of Moray. The site's agricultural terraces form a sunken amphitheater that creates a variety of mini ecosystems due to differences in sun exposure, altitude, irrigation, and temperatures. It is thought that the site was used by the Inca to experiment with growing different plants.

Our travel through the scenic mountains also allows us to view the impressive salt pools at Maras. The ancient pools form by water emerging from the mountain and the evaporating ponds are still used to extract salt.


We continue on to Ollantaytambo for two overnights at the lovely
Pakaritampu Hotel
. The hotel has beautiful landscaping, a nice restaurant, and is close to the train station for next morning travel to Agua Calientes.

After checking in at the hotel, we explore the adjacent Inca ruins of extensive terraces, massive stones, and waterworks. The excellent examples of ancient Inca city planning and architecture are evidenced by the remaining (still utilized) roadways, pools, canals and enormous stonework. The original water canals of the Inca irrigation system still function as important parts of the communities' life. It is also an excellent example of living history, as today's towns people still live in structures that housed the Incas of the 14th century.


DAY 4 (B/L)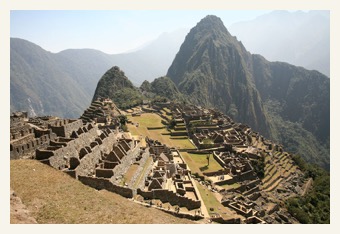 We have an early rise so we can depart on one of the first trains to Machu Picchu to be there as the sun rises over the mountains, which is between 7 - 8am on a clear morning. A short walk (one block) takes us to the train station for travel up the valley to Agua Calientes. The rails run along side the Urubamba River, past towering mountains and through lush forests. Upon arrival at the Machu Picchu train station in Agua Calientes (about a hour and half ride), then a 20 minute bus ride takes us 2,000 feet up to the site's entrance.

After an introductory walking tour of the ruins, the remainder of the day is free for self-exploration and discovery of this magnificent site. Enjoy lunch (voucher provided so you can go at your own timing from 11.30am - 15.00pm) at the Tinkuy Buffet Restaurant in the Machu Picchu Sanctuary Lodge, adjacent to the ruins entrance. As the sun sets, we return to the Agua Calientes train station (last bus down is around 5:30pm) for the evening train back to Ollantaytambo and the hotel.


DAY 5 (B/L)


We then begin our return to Cuzco, taking a different route and touring in the Sacred Valley of the Inca. The spectacular mountain scenery includes quaint villages, terraced valleys, and towering snow-capped peaks - all overlooking the white-waters of the Urubamba River. Much of the scenery looks like it was created just yesterday!


The Inca ruins of Pisaq are strategically located on a ridge-top overlooking two scenic valleys that are etched with extensive agricultural terraces. Covering an area four times larger than Machu Picchu, the central complex of temples in this ancient citadel was protected on all sides by high walls and gateways. In the valley, at the colorful Pisac village, you can examine (and buy) local goods such as; fruits, vegetables, coca leaves, mineral dyes, weavings, stone carvings, and a great variety of handicrafts.

Depending on timing, we will probably have lunch at La Quinta Dona Clorinda restaurant near Pisaq, popular for its typical Cusquenian food such as quinua soup, cream corn, stuffed trout, ceviche, cuy and stuffed rocoto.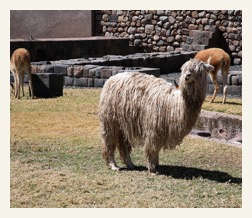 In route onward to Cuzco, is a visit to AwanaKancha, or "Palace of the Weaver" in the indigenous language of Quechua. Various communities work with AwanaKancha to present weaving demonstrations at the farm and there is an exhibit on traditional dyes for coloring the textiles. It is also a lama farm that showcases all four members of the Andean camelid family: llamas, alpacas, guanacos, and vicuñas. Proper foods are provided so you may feed the beautiful creatures.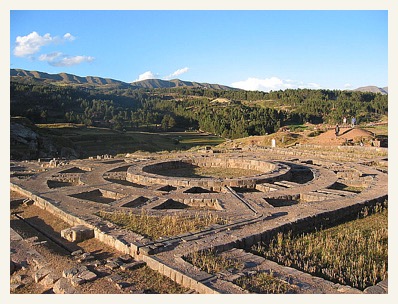 Before arriving into Cuzco, we explore the immense Inca fortress-temple of Sacsayhuaman, strategically built overlooking Cuzco and learn about its important role during the Spanish Contact Period. You also see the Inca shrines of Kenko, an outdoor amphitheater and Tambomachay, where a natural spring still feeds ancient Inca baths.

We then drive into Cuzco for two overnights at the Casa San Blas.


DAY 6 (B)


This is a free day in Cuzco for personal exploration and relaxation to allow you the maximum amount of choice on activities.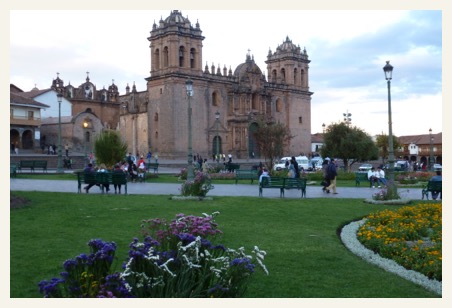 Cuzco is one of the world's top travel destinations and a myriad of options are available. If desired, you can arrange a day of white-water rafting, mountain biking, horseback riding, hiking, or explorations of surrounding remote Inca ruins. The city of Cuzco also offers wonderful art and history museums, countless shops with a great variety of handicrafts, a wide variety of restaurants, pubs & peñas, numerous churches, cathedrals and other outstanding historic architecture line the cobble stone streets. Cuzco is safe (with a little common sense) to explore on your own and taxis are convenient. You can also hire a guide for the day if desired. Out-of-town day trips, private guides, and sport activities can be arranged directly with the local personnel in Cuzco. (Note that lunch is not included this day to allow for the most options.)

DAY 7 (B)


Morning transfer for flights to Lima.


Upon arrival in Lima, you have several options:
1.
Stay at airport and connect to international flights out.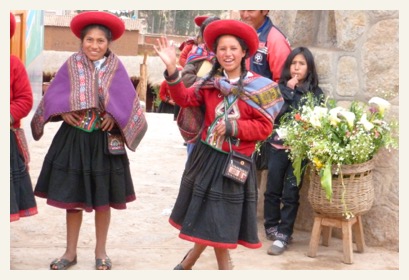 2.
For an additional $90/dbl/pp you may choose to overnight in Lima (includes airport transfers, hotel and breakfast). You then may:
A. Fly out the next morning.
B. Fly out the next night (day use of hotel day room is $35/pp/dbl).


3.
Or, you may choose to continue travels in Peru with custom trip extensions. You may see our webpage below for Peru travel options and we are happy to customize an itineary for you.


SERVICES

All airport / hotel transfers and group transportation as listed
All lodging, including hotel taxes, as listed or similar
Tours as described including entrance fees
Meals as listed (B=Breakfast / L=Lunch / D=Dinner)


CONTACT US FOR PRICING AND DETAILED TRIP BROCHURE.
You are welcome to call us anytime at 1-239-992-9660, or toll free at 800-446-9660, or email us at
travel"at"GoExploring.com
.

Return to the top of this webpage :)

You may click here for photos from our previous Peru Mistura tours.
Here are some nice videos of the Mistura Food Festival
(on the share link, you can go to URL and see full size)

1st Day

Return to the top of this webpage :)